Sedation Dentistry – Katy, TX
Guaranteed Comfort in the Chair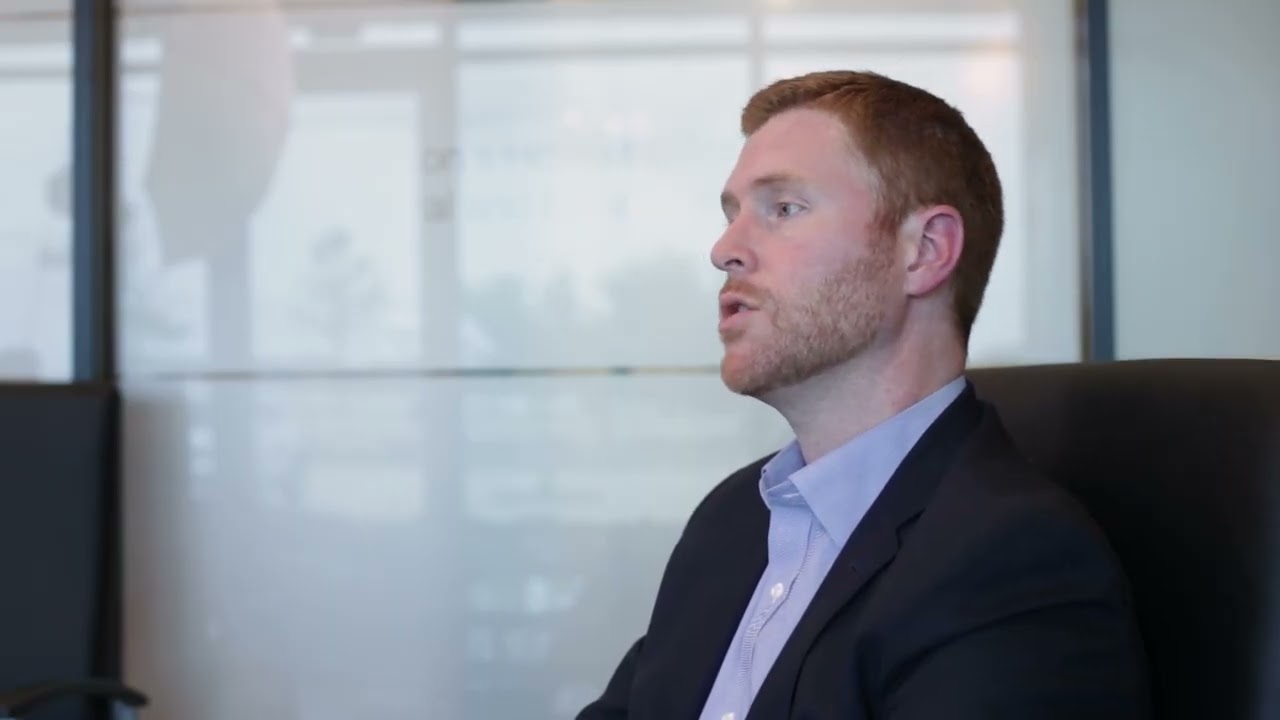 Pretty much everyone becomes at least a little nervous when they learn they need oral surgery, and for some, the fear can be enough to make them skip out on much-needed care altogether. At Piney Point Oral & Maxillofacial Surgery of Katy/Cypress, patient comfort is one of our top priorities, which is why we offer options for sedation dentistry in our Katy, TX oral surgery practice that can help even the most anxious patients enjoy a calm and relaxing experience that results in a healthier and more attractive smile.
Local Anesthesia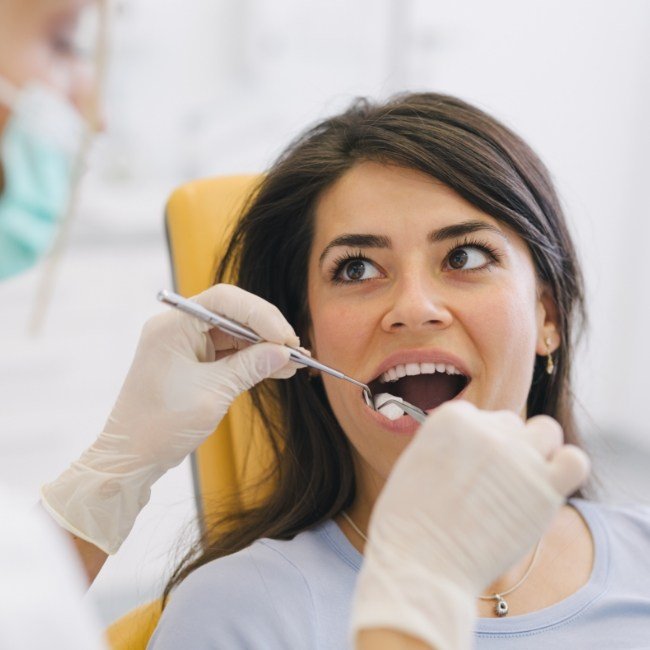 We use local anesthetic before every procedure to ensure our patients don't feel any physical pain while in the chair. Our team is careful to apply it with extreme precision so we only numb the treatment area, which makes administering the sedative more comfortable, plus a patient won't have to deal with lasting numbness for hours afterward.
IV Dental Sedation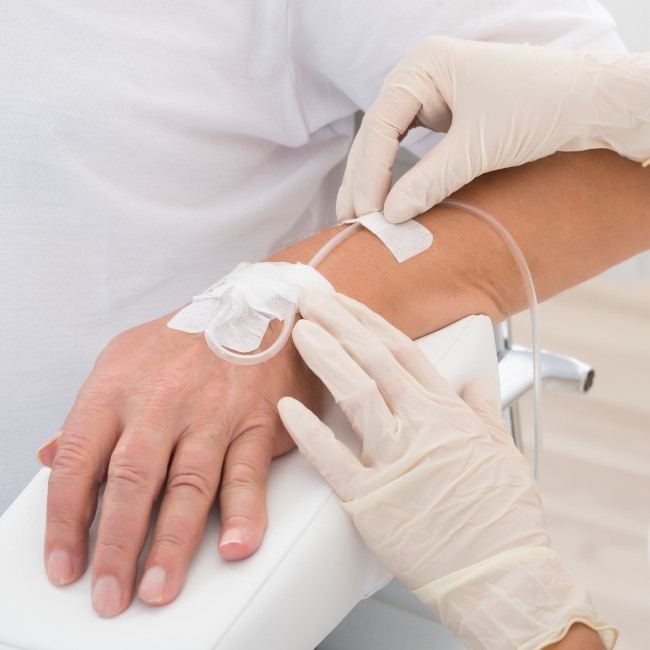 Medication can be administered directly into a patient's vein so that it takes effect extremely quickly. This not only helps a patient become sedated or anesthetized almost immediately, but the IV also allows us to easily alter how much medication a patient is receiving in real-time so we can guarantee their complete comfort from moment to moment during a procedure. This highly effective form of sedation is suitable for patients with extreme anxiety about treatment as well as those who must undergo complex procedures.
What Is IV Dental Sedation?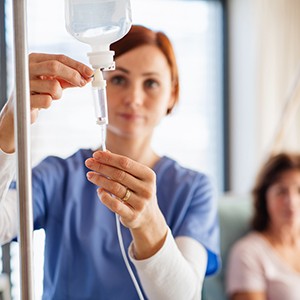 Intravenous sedation, also called IV sedation, is a relaxation method wherein we administer a sedative medication directly into a patient's bloodstream. We do this via a small needle inserted into the patient's hand or arm. The medication kicks in very quickly and provides powerful effects. Although patients do not lose consciousness, they may not remember their procedure. In fact, they often think they were asleep! Therefore, IV sedation is sometimes referred to as "twilight" sedation or "sleep dentistry."
Because the effects of IV sedation can linger for several hours, patients should have a trusted adult available to drive them home after their appointment.
Who Is a Good Candidate for IV Dental Sedation?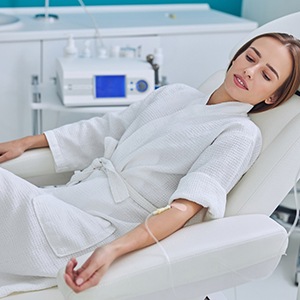 IV dental sedation might be suitable for you if any of the following are true:
You experience extreme anxiety or fear when undergoing dental procedures.
You are not easily numbed by local anesthetic.
You must undergo an extensive treatment, or you plan to undergo multiple procedures at once.
You have a medical condition that makes it difficult for you to sit still for extended periods of time.
IV sedation is safe for most people. Before your procedure, we will thoroughly screen you so we can be sure that you are free from any issues that might make IV sedation risky for you.
The Benefits of IV Dental Sedation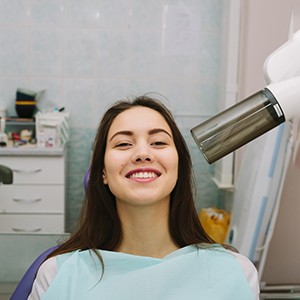 Some outstanding benefits of IV sedation include:
We can control the amount of medication you receive throughout your procedure, so you will be comfortable during your entire appointment.
It can allow you to undergo treatments that you might otherwise avoid due to fear of discomfort.
Because IV sedation helps you to relax, our team can work as quickly as possible. You will be able to go home that much sooner!
Our expert team carefully monitors patients while they are sedated so they remain safe and relaxed.
IV sedation is one of the more powerful forms of dental sedation.
General Anesthesia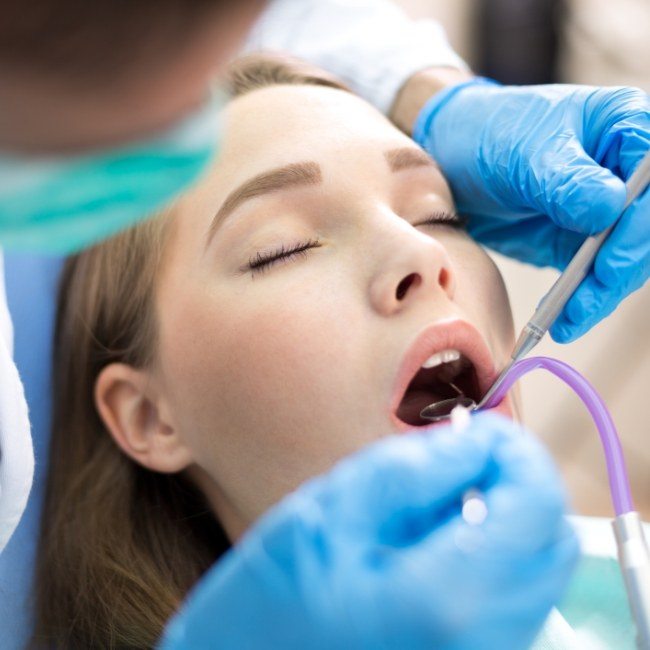 For more advanced procedures, or for patients who want to have multiple treatments completed in a single appointment to save time, we may recommend general anesthesia. This essentially allows a patient to "sleep" through their treatment. Thankfully, the general anesthesia we use is much lighter compared to what is utilized during major surgery, so a patient is able to wake up and start feeling normal much faster afterward.
Patient Monitoring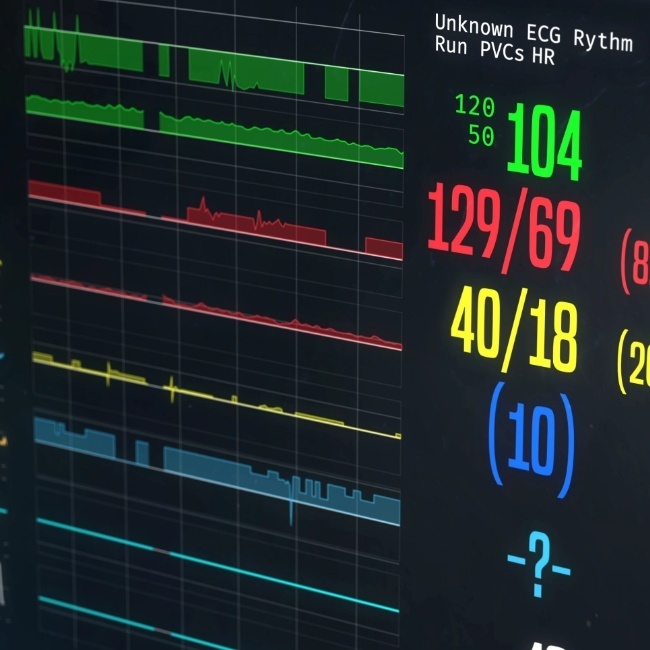 To guarantee the safety of our patients, we utilize many monitoring techniques after applying sedation and anesthetic. We keep a close eye on someone's blood pressure, heartbeat, respiration, and blood oxygen levels before, during, and after a procedure to make sure that everything stays within optimal levels. This allows us to avoid any missteps and ensure a patient always leaves our oral surgery office in better shape than when they came in.
Nitrous Oxide Sedation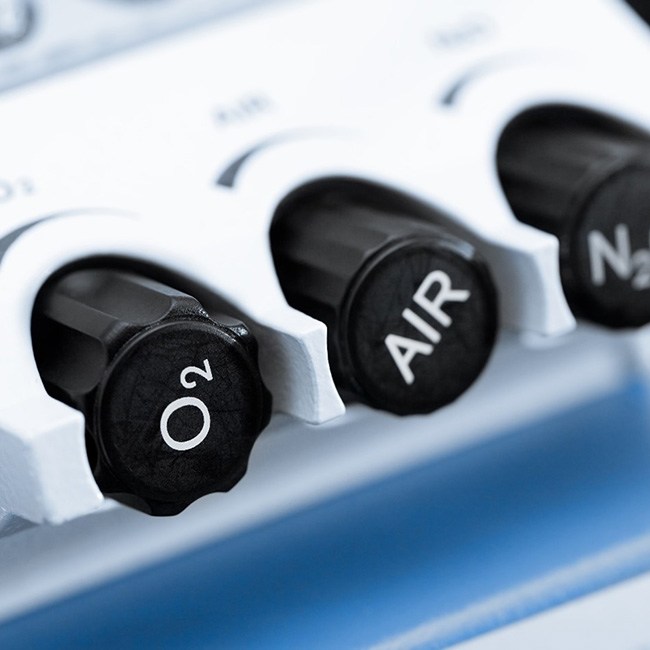 Nitrous oxide in Katy is one of the milder forms of sedation that we offer. This gas causes a calm, relaxed, and happy sensation when it is inhaled. It is suitable for the vast majority of patients, including young children. Its effects also wear off quickly, so it allows patients to get back to their normal routine as soon as possible. It is one of the more affordable types of sedation.
Who Is a Good Candidate for Nitrous Oxide?
Nitrous oxide is suitable for use for a wide range of patients, including both children and adults. Your sedation dentist in Katy may recommend it for you if you:
Suffer from mild to moderate anxiety about dental procedures
Are nervous around needles
Find it difficult to sit still in the treatment chair
Have highly sensitive teeth
Struggle with a strong gag reflex
Are not easily numbed by local anesthesia
Only a few groups of people should not get nitrous oxide, including pregnant individuals, those with sinus congestion, and people with certain respiratory conditions. Our team will thoroughly screen you to make sure you have no contraindications for nitrous oxide.
How Does Nitrous Oxide Work?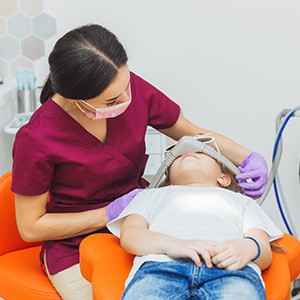 Nitrous oxide is administered through a nasal mask. Once you are wearing the mask, we use a machine to release a mixture of nitrous oxide and pure oxygen through it. The oxygen helps to reduce the risk that you will suffer adverse side effects. Within just a minute or two after you begin breathing in the gas, you should start to feel its effects. Following your procedure, your nasal mask will be removed. Within a few minutes of the end of your exposure to the nitrous oxide, its effects should be completely worn off. You can expect to be alert enough to drive yourself home.
Aftercare for Nitrous Oxide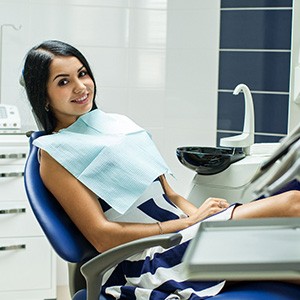 Even though the effects of nitrous oxide do not linger, we will still ask you to stay in our office for a few minutes so we can monitor you and make sure it is safe for you to go home. The nitrous oxide should not inhibit you from going back to your daily activities, such as work, school, or anything else that you have planned. Of course, your dental procedure may necessitate that you take a bit of downtime to rest and let your body recover. Please be sure to diligently follow any post-operative instructions that our team gives you.
Oral Conscious Sedation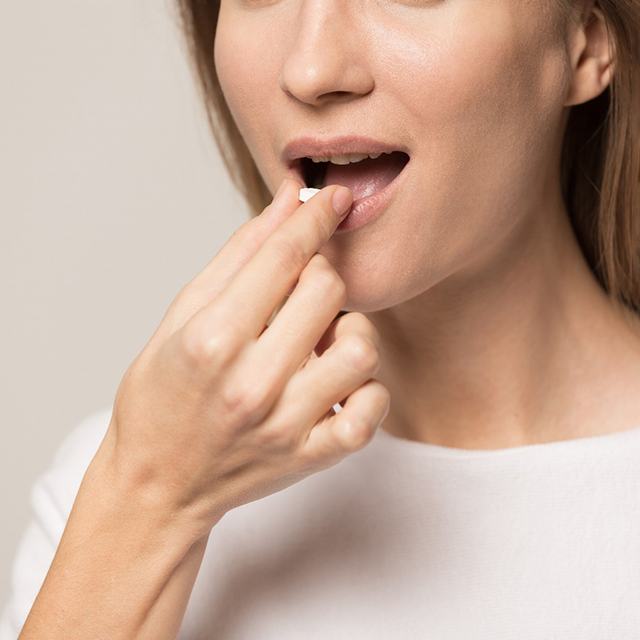 Oral conscious sedation in Katy is a needle-free method for helping patients stay relaxed throughout their dental treatment. It involves the use of a pill, which you simply swallow shortly before your procedure. The drugs used for this form of sedation are powerful, but they do not cause unconsciousness, so you should remain alert enough to interact with our oral surgery team during your procedure. The sedation's effects can linger for several hours following your appointment, so you should plan on taking it easy for a while after you go home.
What Is Oral Conscious Sedation?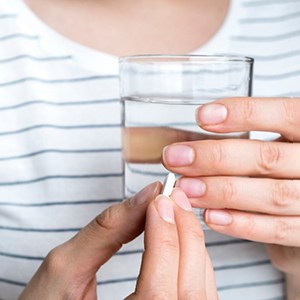 With oral conscious sedation, all you have to do is swallow a prescription pill shortly before your dental procedure. As the medication takes effect, you will begin to feel relaxed and perhaps a little drowsy. Drugs commonly used for oral conscious sedation include Valium, Ativan, and Halcion. The one that is used in your case will depend on your unique circumstances and whether you have any known allergies.
This form of sedation is excellent for calming fears and anxiety. It is also an effective method for calming a strong gag reflex.
How Does Oral Conscious Sedation Work?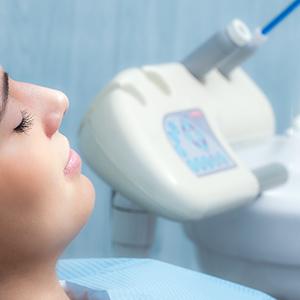 You can expect to feel very relaxed throughout your procedure. You might drift off to sleep, but you will not be unconscious; it should be easy for your sedation dentist in Katy to awaken you with a gentle shake.
The effects of oral conscious sedation typically linger for several hours following an appointment, so it will not be safe for you to drive yourself home. A trusted family member or friend should oversee your transportation.
Are You a Good Candidate for Oral Conscious Sedation?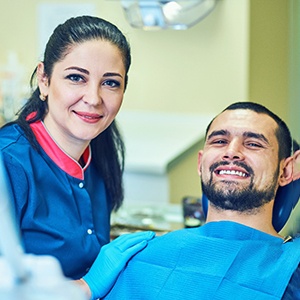 Oral conscious sedation is suitable for most patients who:
Struggle with dental fear or anxiety
Have a strong gag reflex
Have physical conditions that make it difficult for them to sit still in the treatment chair for a long period
Are not easily numbed by local anesthesia
Of course, it is not ideal for everyone. For example, it is not generally recommended for pregnant individuals. Our team will thoroughly screen you for any contraindications before we approve you for oral conscious sedation.
Sedation Dentistry FAQs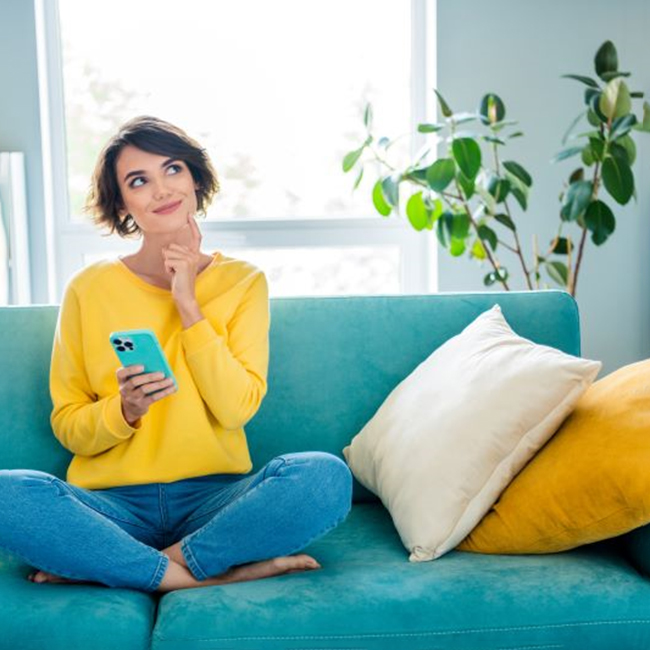 Sedation has the potential to help you get through your next major dental procedure with ease. Still, it is understandable if you want to learn more about it before you book your consultation. To help you gather reliable information, we have compiled the following list of FAQs, along with easy-to-understand answers. If your specific questions are not touched on here, reach out to us directly. We look forward to speaking with you!
Is Sedation Dentistry Safe?
Sedation dentistry is very safe for most patients. Of course, it can carry some minor risks. For example, on rare occasions, a patient has an allergic reaction to one of the ingredients in a sedative medication. Some medical conditions can also increase the risks associated with sedation. Our team will thoroughly screen you for any relevant risk factors and make sure you are well-informed about your sedation options before we move forward with treatment. We will also carefully monitor you while you are sedated so we can act quickly if something goes wrong.
Is Sedation Dentistry Safe While Pregnant?
The medications used in sedation may pass through the placenta and affect your developing fetus. Therefore, sedation is usually not recommended for pregnant women. If possible, invasive procedures should wait until after your baby is delivered. If you need urgent care, our team might be able to sedate you during your second trimester of pregnancy, when risks tend to be lowest. Otherwise, we will look for ways to perform your treatment without the use of sedation. You might need to get by with just local anesthesia, which has been shown to be very safe during pregnancy.
Will I Remember Anything with Dental Sedation?
Although most types of sedation do not cause unconsciousness, they do frequently cause mild amnesia. Many patients do not remember anything that happened during their procedure, particularly if they were under the influence of oral conscious sedation or IV sedation. This is often viewed as an advantage because most people do not want to remember the sights, sounds, and sensations of their oral surgery.
What Does It Feel Like to Be Sedated at the Dentist?
Different types of sedation come with different sensations:
Nitrous oxide may cause you to feel giddy, light, and relaxed. You may even get the giggles and experience a slight tingling sensation in your extremities.
Oral conscious sedation produces a deep state of relaxation. You may feel heavy and drift off to sleep during your procedure.
IV sedation feels similar to oral conscious sedation, but it can be even more powerful. Even though it does not cause unconsciousness, it is sometimes called "sleep dentistry" or "twilight dentistry" because it induces feelings of sleepiness.
General anesthesia causes complete unconsciousness.