Dental Implants – Katy, TX
Beautiful & Permanent Tooth Replacement
For people with missing teeth, dental implants offer a way to give their smiles a new lease on life. Unlike more traditional tooth replacements, implants actually restore the whole dental structure from root to crown, creating something that looks, feels, and performs just like the real thing. Dr. Koo and Dr. Shepard have helped thousands of patients recover their bites and confidence using dental implants in our Katy, TX oral surgery office, and they are eager to do the same for you. To learn more and schedule a consultation, contact us today.
What are Dental Implants?
A dental implant isn't a prosthetic tooth, but rather a small titanium post that is placed within the jawbone to mimic a missing root. Once in place, the surrounding bone bonds with the implant through a natural process called osseointegration. When this is complete, a new crown, bridge, or denture can be attached to the implant to bring back the visible portion of the tooth/teeth.
The 4 Step Dental Implant Process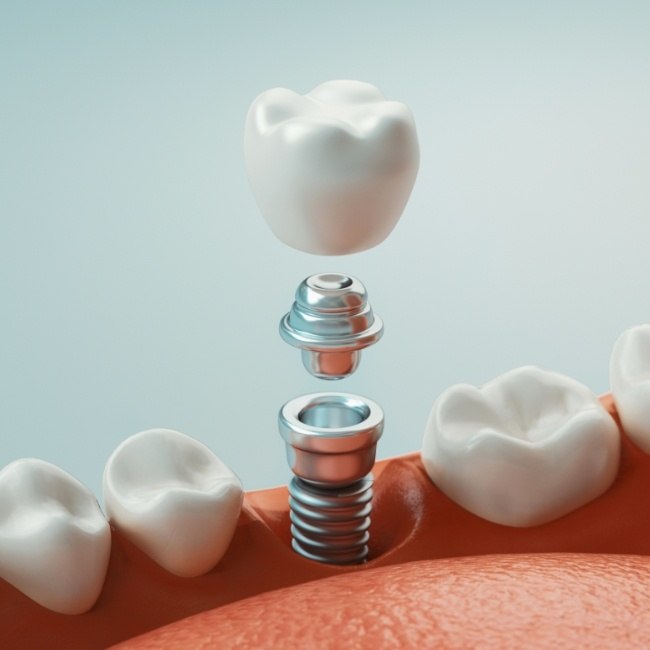 Getting dental implants is a complex process that takes place across several months. That might seem like a long time, but the end results are well worth it! Here at Piney Point Oral and Maxillofacial Surgery of Katy/Cypress, we can perform all stages of the process, or we can partner with your general dentist. Drs. Koo and Shepard are both skilled professionals who are ready to help you plan a successful implant journey. While the exact process can vary from patient to patient, how dental implants work in Katy usually involves four main stages of treatment:
Initial Dental Implant Consultation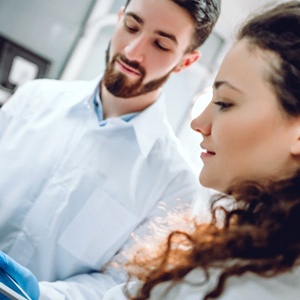 Dr. Koo or Dr. Shepard will give you a thorough exam, complete with a CBCT scan, and discuss your tooth replacement options. This discussion will be based on your current oral health, your overall health, and your goals. Feel free to ask any questions that you may have about the road ahead — our team is always happy to share information! If both you and your oral surgeon agree that dental implants are right for you, you'll be scheduled for your placement surgery. If you are not quite ready for dental implants, you might be scheduled for some preliminary treatments first.
Dental Implant Surgery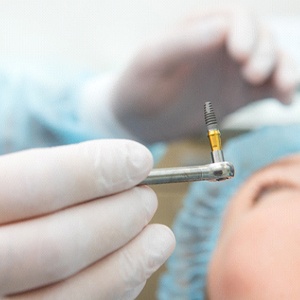 Our oral surgeons often use advanced computer-guided surgical techniques to position implants within the jawbone. This high-tech approach minimizes the risk of human error. During the surgery, you should feel little to nothing. In addition to numbing your mouth, we might also sedate you with either IV sedation or general anesthesia. Depending on your circumstances, you might be fitted with temporary teeth while you heal so you'll have a complete smile throughout the entire process. Most patients are feeling well enough to return to work within a day or two of their appointment.
Dental Implant Osseointegration & Abutment Placement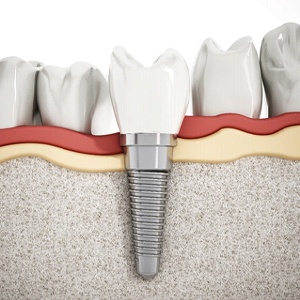 Osseointegration is the process through which dental implants in Katy bond with the surrounding oral tissues. It is what enables the implants to provide such a strong base of support for your new teeth. Osseointegration usually takes 3 – 6 months.
Following osseointegration, you might need to undergo a second minor surgery, wherein your implants will be exposed and healing caps will be placed on them. Once your gums recover, we may place abutments (small connector pieces) on your implants. (Some patients receive abutments during their initial implant surgery.) After your abutments are secured, you can look forward to the final stage of your treatment journey.
Delivery of Dental Implant Restorations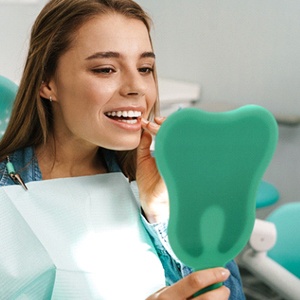 Often, our patients return to their general implant dentist in Katy or their prosthodontist for this part of their treatment. Your care provider will design your new teeth and place them in your mouth. Every detail, including your bite, as well as the color and shape of your teeth, will be taken into account. If you currently do not have a general dentist or prosthodontist, our team may refer you to one or handle this part of your tooth replacement journey in-house. Once your new teeth are in place, you will be able to start enjoying the many benefits of dental implants!
Dental Implant Post-Op Instructions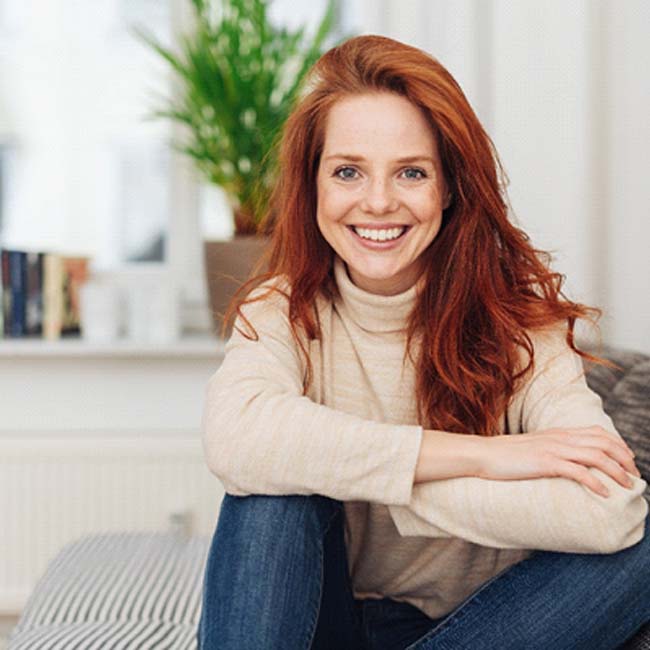 After your dental implant surgery, you will have to go through a recovery period. That might sound a little intimidating, but it's really nothing to worry about. Below, you'll find some practical dental implant post-op instructions near Houston. If you have questions about anything you read, don't hesitate to reach out to us.
What to Do Directly After Dental Implant Surgery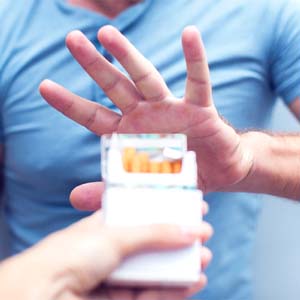 Soon after your procedure, blood clots should form over your dental implants near Houston. They are an important part of your body's healing process, so you should do all you can to protect them. Here are some steps you can take toward that end:
Do not smoke or drink through a straw.
Do not spit. Instead, absorb excess saliva with a tissue or simply swallow it.
Do not give in to the temptation to touch your surgical sites with your tongue or fingers.
Common Side Effects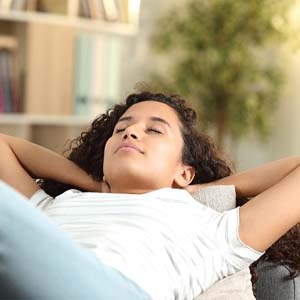 Following dental implant surgery, you may experience:
Intermittent bleeding. Gauze and light pressure can help to manage this. For some patients, it can continue for several days.
The swelling may continue over the first 72 hours. A cold compress may minimize it.
General discomfort. Taking pain medication and getting plenty of rest should make you as comfortable as possible.
If you experience any severe, prolonged, or unusual side effects, contact your implant dentist near Houston as soon as possible.
Diet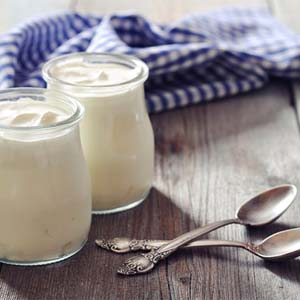 At first, you should stick to a no-chew diet, which can include things like brothy soups, smoothies, and pudding. Thereafter, you may be able to enjoy some fork-tender foods, such as scrambled eggs, meatloaf, soft breads, and pasta. Once the soft tissue in your mouth has had a chance to recover, you can resume a fairly normal diet. However, it would be wise to continue limiting hard and tough foods, especially if you do not have many natural teeth left.
Health & Oral Hygiene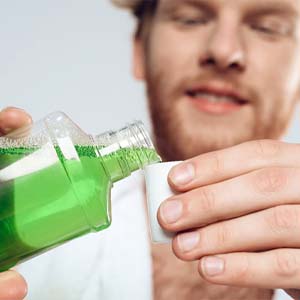 You can resume brushing your teeth the day after your surgery, but you should be extra gentle near your surgical sites. Swishing with saltwater may help with swelling and discomfort. If you have a prescription mouthwash, use it as directed. If you choose to use a non-prescription mouthwash, try to avoid products that have a high alcohol content, such as regular Scope and Listerine.
What to Do After Your New Teeth Are Attached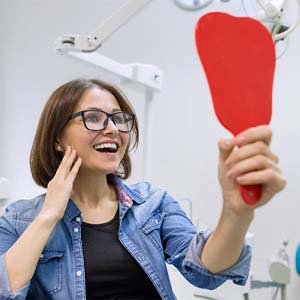 Once your new teeth are attached, you might experience some gum tenderness and extra saliva production. Once you adapt, however, you can expect your prosthetic to feel natural in your mouth. There is no downtime, swelling, or bleeding associated with this portion of the dental implant process. You'll be able to show off your new smile right away!
Benefits of Dental Implants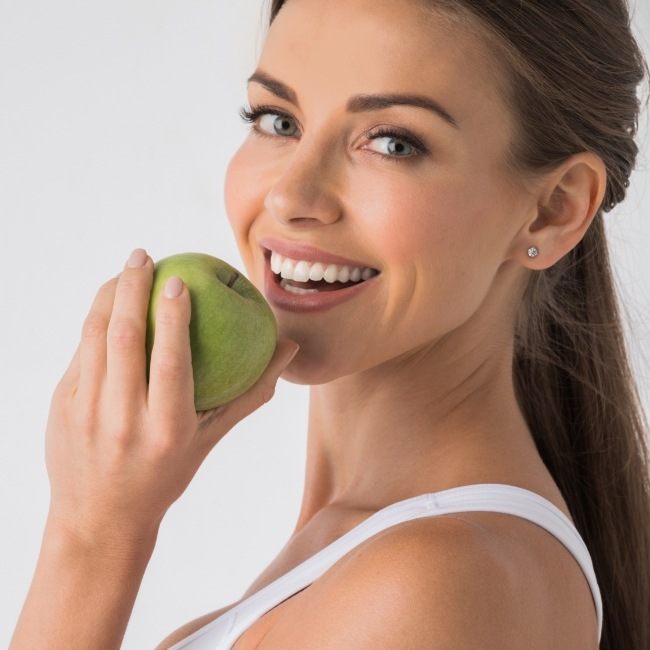 Dentists and specialists in the U.S. place over five million dental implants each year — this treatment is among the most popular forms of tooth replacement! Why do so many people flock to it? Simply because of the many benefits that dental implants offer. They have the potential to improve your everyday life, support your overall health, and provide you with decades of reliable function. Below, you can read more about how they might be able to change your life.
Day-to-Day Benefits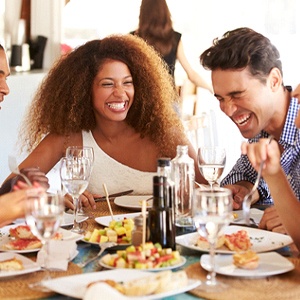 Some of the day-to-day benefits of dental implants in Katy include:
Peace of mind. Traditional bridges and dentures are notorious for slipping out of place, but you never have to worry about this with implants because they are held firm within the bone just like real teeth.
Natural appearance. Because implants don't require obvious metal attachments to remain stable, they seamlessly blend with the rest of the teeth. Whether you are meeting with clients at work or engaging in social activities, you'll be able to smile with confidence.
Reliable function. Dental implants are strong enough to stand up to virtually any food, including ones that are off-limits with traditional dentures.
Easy maintenance. In many ways, caring for dental implants is just like caring for natural teeth. Thorough oral hygiene, along with regular visits to your implant dentist in in Katy, may be all that is necessary to keep them healthy and thriving.
Health Benefits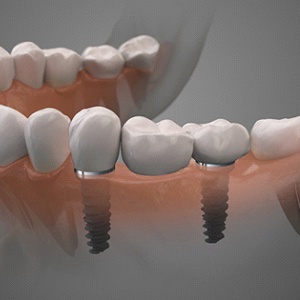 Dental implants support oral and overall health in numerous ways:
Jawbone preservation. Dental implant roots provide internal support for the jawbone and prevent bone loss. This is in contrast to traditional dentures, which may actually worsen bone loss.
Protection for natural teeth. Implants can prevent the remaining natural teeth from drifting out of place. Also, unlike a traditional bridge, they usually do not require that any of the nearby natural teeth be modified or extracted.
A balanced diet. Some people with tooth loss miss out on key nutrients in their diet. Dental implants can help you enjoy the disease-preventing benefits of a wide variety of foods.
Long-Term Benefits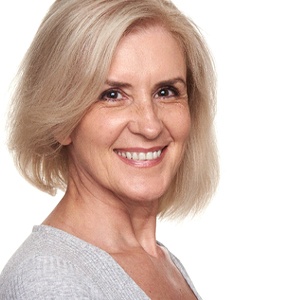 Dental implants will begin to benefit you shortly after you receive them, and you can expect them to continue to serve you well for many years. Some of their long-term benefits include:
Regular bridges and dentures have a 7 – 10 year lifespan on average, while implants have been shown to easily last for 30 years or more. The restorations on top of implants also tend to last for quite a while.
Save money. Although implants cost more upfront than other forms of tooth replacement, they last for so long that they might actually be more affordable if you calculate their cost per day over the course of a few decades.
Possibly live longer. Tooth loss is associated with early mortality. Although dental implants cannot bring your real teeth back, they can address many of the factors that might shorten your lifespan. For example, they may reduce your risk of gum disease and help you to enjoy an active social life.
Who Dental Implants Can Help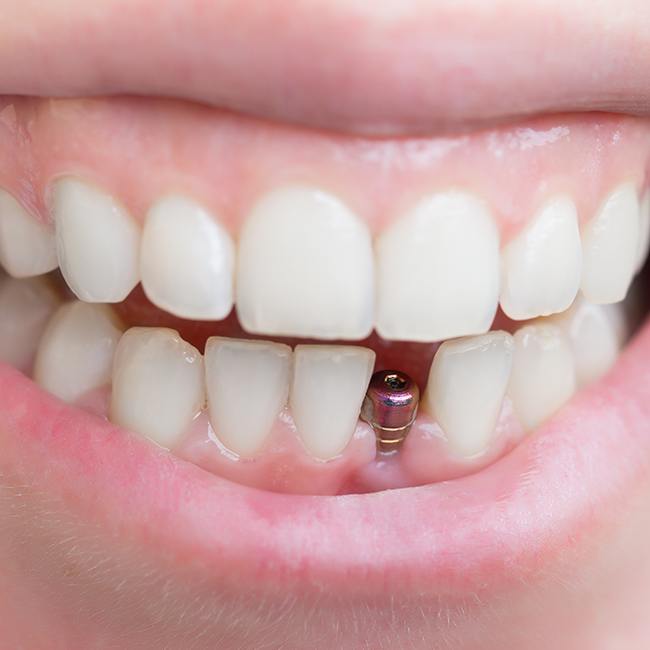 Practically anyone dealing with tooth loss can benefit from dental implants in Katy, whether they are missing one tooth, all of their teeth, or any number in between. All that's required of the patient is to have good oral health, no general health problems that could create complications during surgery, and a strong enough jawbone to hold the new teeth. If any of these are an issue, our oral surgeons can help a patient get what they need to qualify for implants.
Who Is a Good Candidate for Dental Implants?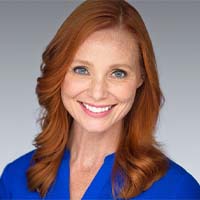 Ideal candidates for dental implants:
Are in fair overall health. You should be free of any conditions that could interfere with your implants' long-term success.
Have good oral health. You should not have active gum disease or other oral health problems that might adversely affect your implants.
Have a strong, adequately sized jawbone. Your bone should be able to successfully bond with your implants.
If you are not a good candidate right away, you may become one after some preliminary treatments. As your dental implant dentist in Katy, our goal is to help you enjoy the best form of tooth replacement that modern dentistry has to offer, so we will do all we can to help you qualify for the treatment.
Missing 1 Tooth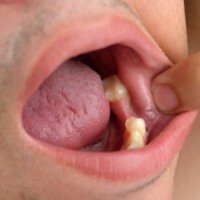 For patients who are missing just one tooth, we can place a single dental implant. After it bonds with the jawbone, you will receive a custom crown to replace the visible portion of the lost tooth. This method of tooth replacement is superior to a traditional bridge in numerous ways. For one thing, a dental implant is entirely self-supporting, so it usually does not require that the nearby teeth be modified in any way. Also, since an implant rebuilds the entire tooth from the root up, you can expect it to look, feel, and function as naturally as possible.
Missing Multiple Teeth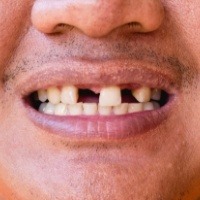 Bridges are the best treatment for patients who have multiple missing teeth in a row. They are usually held in place using crowns fitted over natural teeth, but they can also be supported using two dental implants. This is a great option for patients who don't have the dental structure needed to support a bridge. Plus, implant bridges are proven to last longer and look better than their traditional counterparts.
If your missing teeth are not all adjacent to one another, an implant bridge might not be right for you. Instead, a partial denture or a few individual dental implants may be a better option.
Missing All Teeth
It may take only 4 – 6 implants to replace an entire row of teeth with an implant denture. These prosthetics can be removable in nature. However, they can also be fixed in place, so they don't have to be taken out of the mouth for cleaning. Implant dentures restore much more bite strength than regular dentures, allowing a patient to eat whatever they like with ease.
Some patients are even qualified for All-on-4, a special type of implant denture procedure that is faster and less invasive than traditional methods. It even allows you to enjoy a new smile on the same day as your implant surgery!
Understanding the Cost of Dental Implants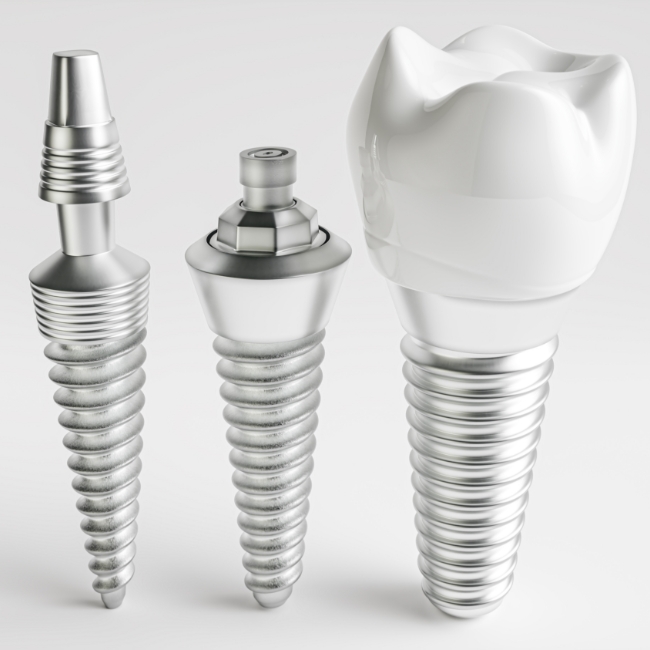 The cost of dental implants in Katy depends on numerous factors. During your consultation, we will provide you with an estimate for the price of your implant surgery and any related treatments. Although dental implants cost more upfront than other tooth replacement options, they present an excellent long-term value. Our team is willing to work with both medical and dental insurance, and we will do all we can to help you fit your new smile into your budget.
Preliminary Treatments & Dental Implant Surgery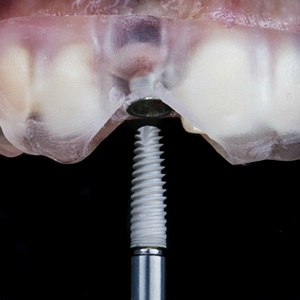 Many patients must undergo preliminary treatments, such as gum disease therapy, extractions, or bone grafting, before they get dental implants in Katy. Each of these services incurs its own fee. The implant surgery itself has a separate cost, which is determined based on how many implants we are placing, the type of sedation used, and other factors. Because we have so much experience with the surgery, we are able to provide consistently accurate cost estimates.
The Parts of Your Dental Implant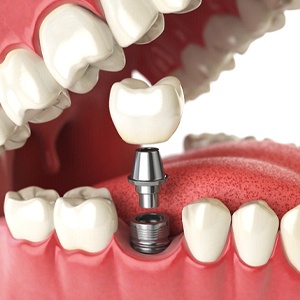 Not all dental implant treatments are the same. Implants can come from various manufacturers, come in different sizes, and be made out of various materials. Such factors affect a patient's total cost. We strive to use only the best-quality implants for our patients. If you have any questions about where the materials for your procedure come from, feel free to ask! The restoration that goes on top of your implants, which may come from us or your general dentist, has a separate cost.
How Dental Implants Can Save You Money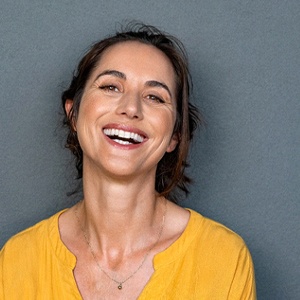 Many people are tempted to opt for forms of tooth replacement that cost less upfront than dental implants. However, they do not realize that dental implants are actually an excellent value. In fact, they last so long that over the course of a few decades, they may actually work out to be cheaper than traditional dentures and bridges. Plus, implants provide so many oral health benefits that they can prevent you from having to spend money on restorative services, such as treatment for the gum sores that dentures often cause.
Does My Dental Insurance Cover Dental Implants?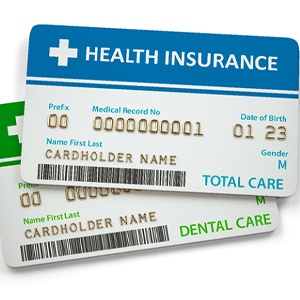 Some dental insurance policies cover implants, while others do not. You will have to check your specific plan to see how it applies. If it does not help you with the implants themselves, it might lower your out-of-pocket costs for preliminary treatments or your final restoration. In some cases, medical insurance might help to pay for oral surgery. Our team is used to working with both medical and dental policies, so you can rely on us to help you get the most out of your benefits.
Making Dental Implants Affordable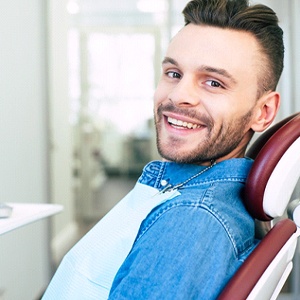 In addition to assisting you with insurance, we may be able to take other steps to help you afford treatment. We accept virtually all forms of payment, and most patients qualify for low-interest or no-interest financing through a third-party lender. We can guide you as you apply for a payment plan that fits your budget. As your implant dentist in Katy, we want you to be able to afford the healthy, strong smile that you deserve!
Dental Implant FAQs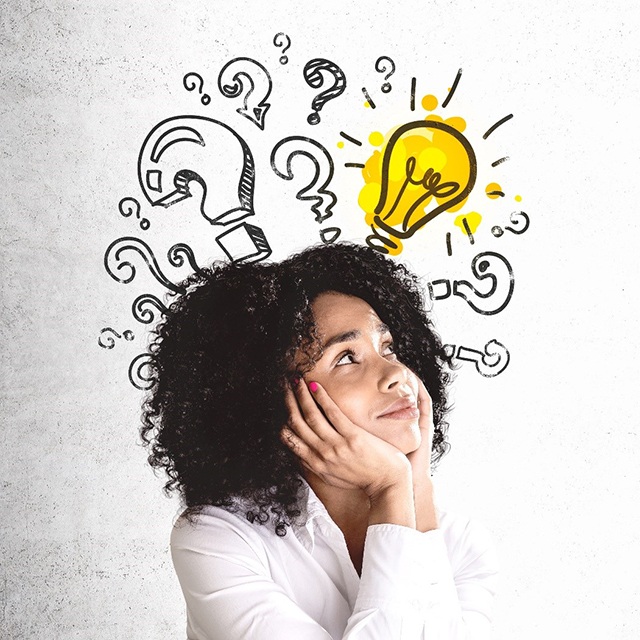 The Piney Point team is ready to help you take advantage of dental implants in Katy and all the benefits they offer. Before you schedule your consultation with us, however, you may want to know more about the road ahead. Below, you will find answers to some of the most frequently asked questions about this treatment. If you don't see the information you were looking for, give us a call so we can personally share our knowledge.
How Long Do Dental Implants Last?
Dental implants are designed to last a lifetime. For many patients, their implants easily endure for 30 years or longer. Of course, there are some things that can shorten their life expectancy, such as accidents, poor oral hygiene, and certain medical conditions. We will coach you on things you can do to help your restored smile stand the test of time. In the vast majority of cases, dental implants and their restorations last much longer than traditional forms of tooth replacement, making them an excellent value.
Does Getting Dental Implants Hurt?
Your implant dentist in Katy will make sure you are numb before we get to work on inserting your implants into your jawbone. Sedation is also available; as a dedicated oral surgery practice, we are qualified to offer both IV sedation and general anesthesia. We want you to be as comfortable as possible during your procedure!
After your surgery, some swelling, soreness, and general discomfort are to be expected. Taking pain medication, getting plenty of rest, and avoiding hard or sticky foods can help to facilitate a smooth and relatively easy recovery. If you experience any severe pain, give us a call right away.
What Can Cause Dental Implants to Fail?
Dental implant failure is quite rare, but when it does occur, it is often due to peri-implantitis. Peri-implantitis is an infection that can eat away at the gums and jawbone until the mouth is no longer able to support the implants. Failed osseointegration (a failure of the jawbone to bond with the implant) is another common cause of implant failure.
Many factors can contribute to implant failure, including smoking, teeth grinding, poor oral hygiene, and certain health conditions. If you have any such risk factors, we will make sure you are well-informed about how they may affect your dental implant journey.
Can I Get Dental Implants if I Smoke?
We determine candidacy for dental implants on a case-by-case basis. We recognize that smoking increases the risk of dental implant failure, and we strongly advise our patients to kick the habit as soon as possible. However, if you smoke or chew tobacco, you will not be automatically barred from getting dental implants. We will evaluate your oral health and all of your other risk factors before we make any treatment recommendations. If you are a smoker who goes through with dental implant surgery, you should abstain from smoking during the weeks immediately before and after your surgery.