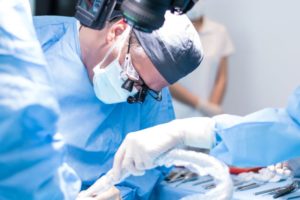 When dental implants are carefully placed into a patient's jawbone, they can bond with the surrounding tissue and act as strong, reliable prosthetic tooth roots. In order to insert the implants, a surgeon might use freehand techniques or choose to perform guided surgery. What is the difference between these two methods, and does it matter which one you undergo? Read this blog post to discover important information.
Freehand vs. Guided Surgery: The Basics
For many years, dentists and oral surgeons had no choice but to perform freehand dental implant placement. After examining X-rays or other images of a patient's mouth, they would take a well-educated guess as to exactly where, how deep, and at what angle to insert the implants.
Guided surgery is a relatively new technique. After using a CBCT machine to get an in-depth look at a patient's oral anatomy, an oral surgeon orders a surgical guide from a laboratory. The guide is used during the procedure to ensure that the dental implants get placed at precisely the right locations.
The Pros and Cons of Freehand Placement
It is important to note that freehand dental implant surgery is not necessarily "bad." It has a high success rate, especially in patients with relatively simple circumstances. For example, it is often perfectly fine when a patient is receiving just one implant, and they have no anatomical abnormalities that might complicate the procedure.
However, freehand placement does have its drawbacks. If a patient is receiving multiple implants, or their case has other complicating factors, placing implants without the help of a surgical guide could cause some problems. For example, the surgeon might accidentally hit a nerve. There is even a chance of dental implant failure.
The Pros and Cons of Guided Surgery
Guided surgery comes with a lower risk of implant failure. The precision it lends to the procedure can also make it as minimally invasive as possible, allowing patients to enjoy a shorter recovery period and reduced post-op discomfort.
There are only a few minor disadvantages to guided implant surgery. For example, it may take your team a bit longer to prepare for your procedure. The extra effort and materials involved could also increase the total cost of your care.
Which Is Better?
Both freehand and guided implant surgery can be successful. However, if you want to enjoy the safest, more comfortable experience possible, talk to a surgeon who offers guided procedures.
Meet the Practice
The two board-certified oral surgeons in our practice utilize the latest technology to make each patient's experience as comfortable and low-risk as possible. Guided implant placement is among the many services we offer. To learn more about it or to book your tooth replacement consultation, get in touch with us at 832-353-1100.