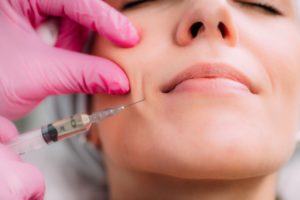 Aging is a natural part of being human. In fact, many would deem it a privilege. However, that does not mean you want to look like you have as much life experience as you do. If you are bothered by noticeable nasolabial folds (also called laugh lines), you may need to see a professional to ask about treatments that can give you a more youthful appearance. Can dermal fillers get rid of laugh lines? This blog post talks about how a simple and quick treatment can help you say goodbye to unwanted lines.
What Causes Laugh Lines?
Laugh lines have a few different causes. One is repetitive facial motions throughout the years. Frequent laughing and smiling can cause the nasolabial folds to become more prominent over time.
Another contributing factor is shifting of fat within the face. During youth, fat in the face in distributed in a way that provides the skin with a soft, smooth appearance. As the years pass, however, pockets of fat begin to shift and diminish, which can add to the formation of noticeable laugh lines.
You might be particularly prone to laugh lines due to certain genetic factors, a history of smoking, or excessive sun exposure.
What Is the Solution for Laugh Lines?
Many professionals recommend injectable aesthetic treatments to reduce the appearance of laugh lines. For example, dermal fillers can be used to smooth out areas of the face that have lost some of their plumpness due to shifting pockets of fat and a reduction in collagen production. The fillers usually provide an instant improvement in the appearance in the laugh lines; they require no downtime; and they can offer results that last for several months.
There are a few different types of dermal fillers. The best one for you depends on a variety of factors; your provider can recommend the product that best fits your budget, circumstances, and goals. Also, keep in mind that optimum results might be achieved by combining dermal fillers with BOTOX®. BOTOX® can be used to limit the motion of muscles that cause the appearance of laugh lines.
Finding a Provider for Laugh Line Treatment
Often, you will find that dermatologists, cosmetic surgeons, and other doctors provide fillers and other injectable treatments. However, many patients have enjoyed outstanding results after visiting a dentist or oral surgeon. Oral surgeons have an intimate knowledge of the facial muscles and how they work. They are therefore uniquely qualified to administer facial injections.
Dermal fillers are an excellent option for reducing the appearance of laugh lines! This low-risk treatment could be exactly what you have been searching for.
Meet the Practice
Drs. Steve Koo and William Shepard are board-certified oral and maxillofacial surgeons. They proudly offer both dermal fillers and BOTOX® to the Katy/Cypress community. If you would like to learn more about how they and our team could help you look younger, contact our office at 832-353-1100.