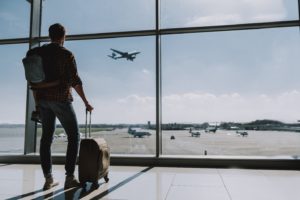 As a busy individual, it might be difficult for you to fit dental procedures into your schedule. You might feel that you have no choice but to board a flight within the days immediately following a tooth extraction. If the extraction was an emergency procedure, it can be even more difficult to reschedule your activities around it. But is it safe to fly after a tooth extraction? Let's discuss why it is generally best to wait at least a few days before you take to the air.
Altitude Changes Can Be Painful
Technically speaking, it is safe to fly after a tooth extraction. However, just because something is safe does not mean that it is advisable.
It is normal to experience some discomfort after an extraction, especially for individuals who undergo a surgical procedure, such as wisdom tooth removal. When you get on a plane, the change in altitude that you experience could exacerbate your pain. That can occur because pressure fluctuations can irritate the sinuses, which in turn may cause discomfort in the mouth.
Of course, how flying affects you will depend on your natural pain tolerance and how your body normally reacts to changes in altitude. In general, though, it is wise to wait at least two days after an extraction before you get on a plane. If your trip simply cannot be rescheduled, ask your dentist or oral surgeon if it would be safe to postpone your extraction until you get home.
Tips for a Comfortable Trip
If you choose to fly while you are still recovering from your extraction, there are a few things you can do to keep yourself as comfortable as possible:
Save your dentist's or oral surgeon's number in your phone. You should be able to reach out for help quickly if you run into any problems during your recovery.
Fill your prescriptions and pack your medications. Be sure to put your prescriptions in your carry-on bag or personal item, not in your checked luggage.
Be careful about what you eat and drink. You should eat soft foods, so you may have to decline any offers of snacks on the plane.
Pack some gauze. Keeping some gauze on hand can help you to control any bleeding if it occurs.
Get some rest. If your budget allows, you might choose to upgrade your seat so you can be comfortable on the flight and perhaps get some decent-quality rest.
Use a cold compress to control swelling. If necessary, your flight attendant may be able to make an ice pack for you.
If possible, you should postpone any flights until after you finish healing from your tooth extraction. Otherwise, follow the tips in this article to make yourself as comfortable as possible while you are traveling.
Meet the Practice
Drs. Steve Koo and William Shepard are highly skilled, board-certified oral and maxillofacial surgeons who are proud to offer a range of treatments, including the surgical removal of wisdom teeth. If you have questions about what to expect after an extraction, our team would be pleased to speak with you. Contact us at 832-353-1100.